For the past 3 years DEAT SRPP (Social Responsibility, Policy & Projects) has funded the Mussel Rehabilitation Project (MRP) which has been implemented by Walter Sisulu University along the Wild Coast between Umtata Mouth and Hole in the Wall. Download the video: Mussel Harvest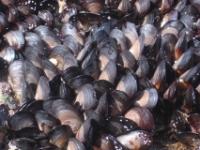 The initiative has, without a doubt, been one of the most successful and effective social responsibility projects in the Eastern Cape. It has not only proven that rehabilitation and controlled harvesting of mussel beds is sustainable, but has literally produced tons of protein rich mussels for the benefit of the local community, while also contributing employment, skills training, environmental awareness, resource monitoring, catch-data collation, and many other vital linkages and benefits. Operating since 2000 under the care and guidance of Zoology lecturer, Dr. Calvo-Ugarteburu (affectionately known by all as "Gugu"),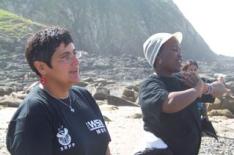 the Mussel Rehabilitation & Food Production Project has been funded variously by Marine & Coastal Management (MCM), WWF, and DEAT SRPP.