Autumn 2018 Newsletter
Autumn 2018 Newsletter
Autumn 2018 Newsletter
Welcome to our first newsletter for 2018 - we hope you enjoy it!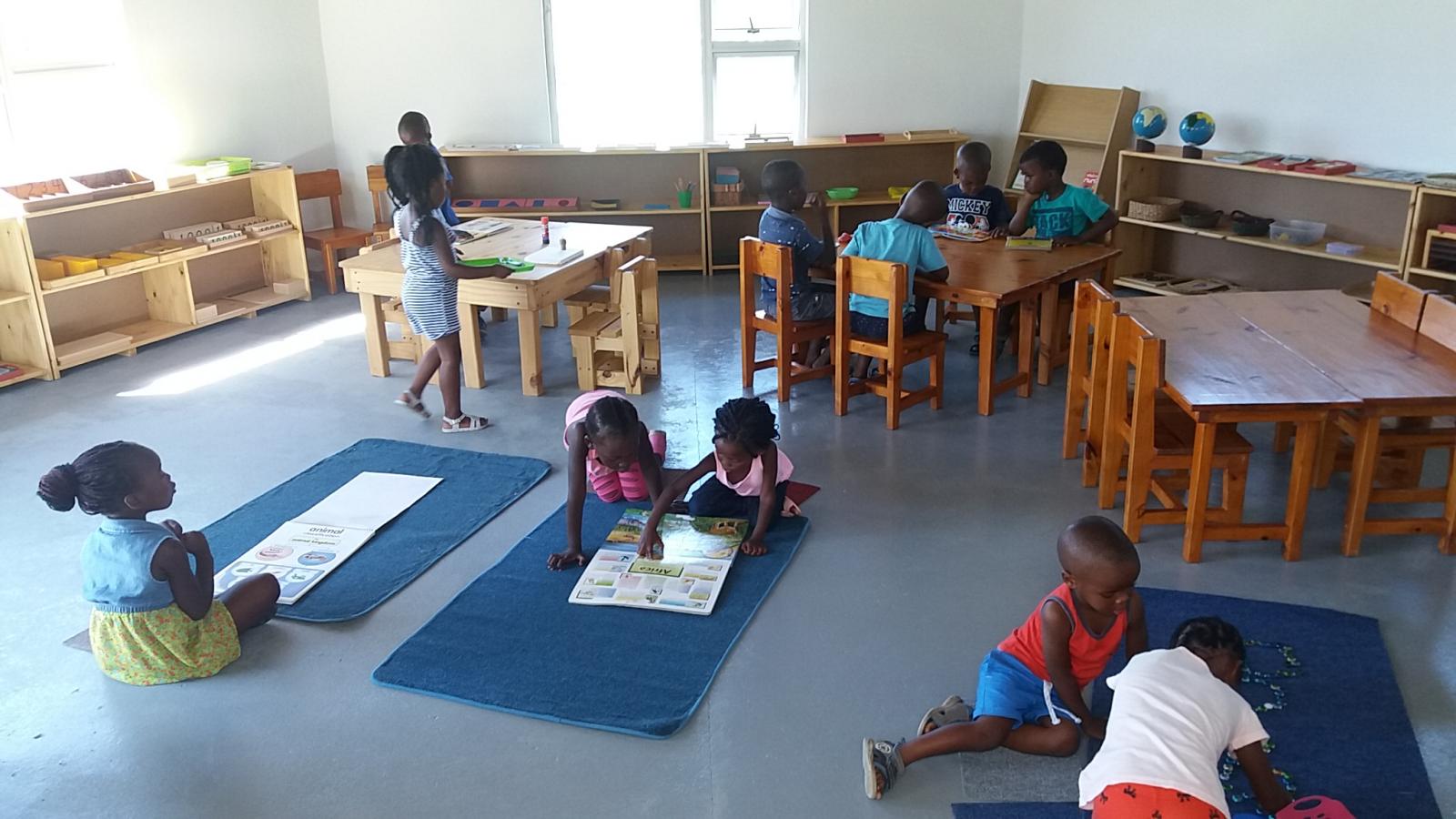 New classroom - January 2018
MOLO FROM DAWN
I hope you all had a happy Easter filled with lots of love and chocolate!

It has been a busy, fun term at Ncinci One's Montessori, as we welcomed 15 new young Ncinci One's to our pre-school.  Most of the newbies are 3 years old, so that they can enjoy the benefit of a full 3-year Montessori Cycle.   Our lovely new classroom has ample space and loads of natural light and the children move between the classrooms easily and happily.

Our Activities of Everyday Living area has been very busy and I am in the process of extending this learning area greatly.  The newbies are very busy spooning, pouring, tonging, tweezing, grating, threading and sifting.   It is really lovely to observe the way these young children eagerly engage with these activities.

Funds were really looking grim and grey at the beginning of February and I knew that I had to do something!  I decided to do an email fundraiser and created a 'hit list'.  I sent emails to many Montessori schools and friends and acquaintances appealing for them to please sponsor children.  The response was really positive and I would like to thank all the sponsors and donors who have decided to walk this road with us.  We really appreciate your support!

There are some good relationships in the pipeline and I feel that 2018 is going to be a great year for Ncinci One's Montessori! 

LATEST HAPPENINGS

A number of mama's from the community have approached me this year, asking me to please help their children with writing, reading and numbers.  The children are at local schools in grades 1, 2 and 3. 
The need for an After-School Programme has come directly from the community.

We all know the serious statistic in South Africa about 80% of Grade 4 children not being able to read to understand :-(  We need to help the children in our area and set them up for success!

We want to start an After-School Programme in the 2nd term, with myself and 1 or 2 local, unemployed matriculants (depending on funding).  We will start with 20 children, then increase to 30 and take it from there.  The children will be in grades 1, 2 and 3 and we will need to provide them with peanut butter sandwiches daily.  The costs to run this programme are not great, but the impact will be amazing!

Needs would include:  English Children's Story Books,  Xhosa Children's Story Books, A4 Exercise books, Coloured Cardboard, Koki's, Wool, Scissors, Stipends and Nutrition funds.

Please consider kick-starting this After-school programme with me! It will change many children's lives!

MONTESSORI MOMENT
The Montessori philosophy is all about building children up and letting them succeed.  I think that often we, as Montessori guides, forget this. When a child is practising a new activity, they sometimes need that little bit of help, to make them succeed and feel confident.  In the little video, note how the older child is guiding the younger child to see the object she is referring too.......absolute Montessori :-)

An older child teaching a younger child the I Spy game......Montessori moments 

HOW YOU CAN HELP 
We are still looking for a few sponsors for children. Sponsorship is affordable when it is shared among a family or a group of friends/colleagues.  A priceless gift for a rural child!  For just R500 per month, you will be providing a young rural child with the following: 

A solid Montessori foundation; A beautiful, stimulating and nurturing educational environment; 2 nutritious meals and a daily calcium supplement; Regular health checks  and de-worming twice a year.  You receive:  Good karma for helping a rural child get the best start to life! We will update you regularly with a quarterly newsletter and you can request an update and photo's of Your child that You sponsor, at any time.  Please consider arranging sponsorship of a Ncinci One's child through your school, group of colleagues, or friends. 

We would really like to start the After-School programme, which I feel will help many struggling children who are already in the system.  Holiday programmes will also run and we only need R6000 per month to run this project.  Please consider donating to this worthwhile cause!

"Overcoming poverty is not a task of charity it is an act of justice. Like Slavery and Apartheid, poverty is not natural. It is man-made and it can be overcome and eradicated by the actions of human beings. Sometimes it falls on a generation to be great. YOU can be that great generation. Let your greatness blossom."  Nelson Mandela

Montessorians have a vision of our world being transformed into a living place for all, guided by respect, responsibility and reflection - Maria Montessori

FROM THE NCINCI ONE'S
We were all very excited to come back to school in January.  We love our new, big classroom, where we can do many activities on the floor mats.  We have got lots of new friends at school now and we show them how to carry their trays, roll their mats and do activities.  

We have lots of new activities in our new classroom  - thank you Garden Road Montessori :-) and we have got lots of toys to play with inside, on the many rainy days we have - thank you Dr Sarah Bailey :-) 

Many of us are working with the Golden Bead Bank and large number cards and we like playing the banking game.  "Bring me:  4 Thousand, 6 Hundred, 2 Tens and 5 Units". Some of us are doing addition with this material and the others are still getting good practice.  

We planted Spinach, Potato, Tomatoes and Butternut in November last year and we have been enjoying these vegetables from our garden, as part of our daily lunch.

We celebrated World Read Aloud Day on 1 February and we enjoyed lots of English and Xhosa stories throughout the day.  

On the last day of school, we had an Easter Egg Hunt in the school garden.  It was fun looking for the eggs and it was mnandi eating them.  We helped the new children find their eggs.

Dawn told us that there will be something new and nice at school when we go back.......what could it be??

THANKS AND APPRECIATION 
Ncinci One's Montessori has been blessed again this term X The kindness and support of many people keep our project going and growing.   For this last quarter, we would like to thank the following people and organisations for their amazing support. Without you, our Early Childhood Development Centre would not be sustainable and we would not be able to offer these young, rural children the great opportunity they are getting. From the bottom of our hearts, Thank You All Very Much for your support!

SOMETHING XHOSA
Let me please introduce you to vegan, fat free, sugar free, wheat free, lactose free Imifino!

Growing everywhere in the beautiful rural Transkei and all over South Africa, is a food source perceived by most as little more than weeds. Collectively known as imifino or morogo, the plants form part of the staple diet of many urban people originally from rural areas - Farmers Weekly

There are many different kinds of Imifino, but today we are going to introduce you to 3 of these.  Next time you go walking or camping, observe how many of these 'foods' you see, pick a few and try them.

The top one is Unongotyozana,  the middle one is Imitwane (pumpkin leaves) and the bottom one is Irgwabe. Nutritious and delicious with Mielie Meal!