Take a walk on the Wild side . . .
Our Shoreline DVD box set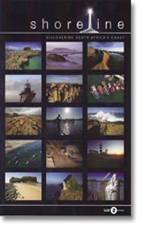 Click here for more information, or to purchase from: Impact Video.
(Price R279)
Winner of two SAFTA Awards:
Best Factual Educational Entertainment
Best Cinematographer Shoreline explores the nearly 3000 kilometers of the South African coastline - stretching from the desert border with Namibia on the Atlantic coast southwards around the tip of Africa and then north to the border with subtropical Mozambique on the Indian Ocean.
The series focuses on the unique points of interest, the natural history, history and archaeology in each region, to build an evolving, encyclopaedic picture of the South African coastline. Shoreline takes the viewer to life at the waters edge.