Take a walk on the Wild side . . .
Blogs » WildCoast.Com's blog
Wild Coast 'needs up to R40bn to develop it'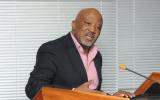 Eastern Cape economic development and environmental affairs MEC Mcebisi Jonas. Picture: THE HERALD
Insanity: They'll address the root cause of development failure - land tenure - after they spend R40 billion destroying the Wild Coast for ever.
But check how he phrases it:
 "We need leaders who can go in and make deals with rural communities and then legalise those deals," Mr Jonas said.
"Then they can continue to have their debates about land tenure if they want to."
BY SHANNON SHERRY, NOVEMBER 18 2013 (Business Day)
BETWEEN R30bn and R40bn will be needed to unlock the potential of the Eastern Cape's underdeveloped Wild Coast region, provincial economic development, environmental affairs and tourism MEC Mcebisi Jonas said on Friday.
He was speaking in an interview after the Integrated Wild Coast Development Summit ended on Friday. The aim of the summit was to lobby for the needs of the region to be put on the national agenda.
"We won't be able to dent levels of poverty without amounts of this nature to instal the backbone infrastructure that is needed," Mr Jonas said. The amount included R10bn for the upgrading of roads and more than R8bn for a water and hydroelectric scheme.
South African National Roads Agency Port Elizabeth project engineer Marlize Nel-Verwey said during the conference that the long-awaited new N2 highway, linking East London to KwaZulu-Natal through the former Transkei, would go ahead. This would be as soon as a court case opposing it was resolved.
Mr Jonas said "a change in mentality" and "leadership" were also needed to transform the region. "For example, 60% of the province's livestock is in this region, but 85% of the income from livestock goes elsewhere in the province.
"The problem is commercialisation and it indicates the change in mentality that is needed. Something needs to be done to effect this ."
Leadership was needed to make deals with communities where land-tenure issues were a serious obstacle to development. "We need leaders who can go in and make deals with rural communities and then legalise those deals," Mr Jonas said.
"Then they can continue to have their debates about land tenure if they want to."
But Mr Jonas warned that there was no template for making deals with communities. "Each rural community is different and the approach needs to be constantly adapted when dealing with each," he said.
For example, there were "illegal operators" performing functions such as building, but when action was attempted against them, communities would defend them. "They have done what government should be doing," Mr Jonas said.
"They have spoken to the communities and they have made deals. They have defined a market for what they supply."
He said the provincial government was driving a strategy to attract investment in agriculture by the big agricultural companies. "We need a demand-led strategy in which people look at markets and supply those markets.
"It is often said that not everyone wants to be a farmer. That is true, but everyone wants an income."
It was not the first time similar initiatives had been attempted, Mr Jonas said. "From as early as 1996, the government established the Wild Coast spatial development initiative to maximise the … underutilised economic potential of the area.
"Other major interventions in partnership with donor agencies were the European Union Wild Coast support programme and the Wild Coast conservation and sustainable development programme. These previous attempts failed but not so much because of shortcomings in their development logic.
"The logic of a corridor development initiative with a clear and well-defined spatial focus within which integrated planning, resource mobilisation and catalytic projects can be implemented must be retained in this renewed initiative."
Mr Jonas said it had been decided to build on these programmes. "A precondition for development and sustained management of the Wild Coast is a shared vision between the government, business, traditional leaders, civil society organisations and local communities."
Mr Jonas's thinking informs much of the initiative and he hopes his experience in the Eastern Cape Development Corporation (from 1999 until 2004) and the private sector afterwards, before joining government four years ago, will help.