Take a walk on the Wild side . . .
Blogs » WildCoast.Com's blog
Thembuland seceding from SA? WooHoo!
http://www.dispatch.co.za/article.aspx?id=367920
2009/12/19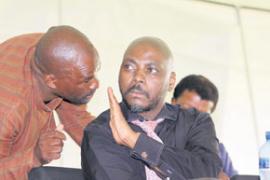 PRESIDENT Jacob Zuma was called on yesterday to apologise to the AbaThembu nation and order the State to pay the tribe R80billion for allowing the humiliation of their monarch.
And the State was also instructed to pay R900million – or else! – to the family of King Buyelekhaya Dalindyebo, who was sentenced to 15 years in prison after being convicted of serious crimes last week.
If the demands were rejected the AbaThembu nation would secede from South Africa and form its own independent State.
The bizarre demands and threats came in a discussion document which was revealed during the launch of "The Justice for Dalindyebo Campaign" at the king's Bumbane Great Place.
Votani Majola, convener of The King Dalindyebo Justice Task Team (KDJTT), which heads the campaign, made the following demands with five-day deadlines:
All charges levelled against the monarch be withdrawn unconditionally and permanently;
That Zuma tender a public apology to the AbaThembu tribe on behalf of the SA government for the humiliation that the people and king had been unduly subjected to;
Payment of R900m by the government to the royal family;
Compensation of R80bn to be paid to the entire AbaThembu nation for the humiliation they suffered.

Should the demands not be met, the discussion document also included several threats:
His Majesty would take an executive decision that the AbaThembu tribe "shall withdraw our participation from the 1994 South African government so as to form our own independent state, provisionally named Thembuland".
The KDJTT would serve " the withdrawal aforesaid at the Parliament of the Republic of South Africa in Cape Town".

Majola said if, during the transition period when they were forming their independent State, the trial against Dalindyebo continued, then "the abaThembu will be persuaded to embark on rolling mass action until all charges are permanently and unconditionally withdrawn".

The document, which the Dispatch has in its possession, also warned that the AbaThembu "will be persuaded to boycott all and any activity that is associated with the 2010 Soccer World Cup".

And they would "make use of all the public platforms provided by the 2010 Soccer World Cup to register our complaints".

Majola said the discussion document had been discussed with the king and his right-hand men until the early hours of yesterday morning.

The king apparently endorsed the discussion document but said the AbaThembu should make the final decision.

Dalindyebo was not part of the discussions later yesterday but was seen around the Great Place. Chiefs from AbaThembu in KwaZulu-Natal, Western Thembuland and AbaThembu bakaDalindyebo and some representatives from traditional councils endorsed the document. They maintain the king was a victim of political persecution by the ANC and that his case was not a criminal case. - By LUBABALO NGCUKANA

Mthatha Bureau
Hole in the Wall Nature Reserve links