Take a walk on the Wild side . . .
Blogs » WildCoast.Com's blog
RAVAGED WILD COAST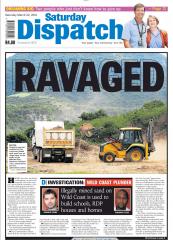 RAVAGED WILD COAST
By ANDREW STONE and BONGANI FUZILE on March 22, 2014 (Daily Dispatch)
HIGHLY lucrative but illegal sand mining, on what was arguably one of the country's most pristine coastlines, is behind the construction of government schools, RDP houses and private homes in the Eastern Cape.
A two-month long investigation has revealed local communities, building supply stores, local businessmen and even construction companies are involved in illegal sand mining operations along the Wild Coast.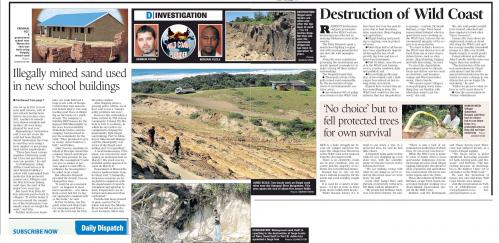 BRAZEN:
Dispatch reporters watched as this truck was loaded with sand from an illegal mine on the banks of the Mbashe River. Reporters followed it to a construction site of a government school Picture: ANDREW STONE
The police and the Port St Johns Municipality are aware of this but don't seem to be doing much.
Today we can reveal three Eastern Cape construction giants – Mpumalanga Construction, Fitscape and AlfDav Construction – have all been using illegally mined sand to build schools and RDP houses in the Transkei.
Our month-long investigation also uncovered the following:
Local communities charge about R150 for an eight-ton load of sand which is then sold to the end user for between R1200 and R2600;
Employees from Centane and Ndabeni-based building supply companies admitted to undercover reporters they had sold illegally mined sand;
Reporters witnessed trucks belonging to Port Elizabeth-based construction company Fitscape collecting sand from the banks of a stream near Lusikisiki;
A truck carrying illegally mined sand from the banks of the Mbashe River was followed to a construction site near Elliotdale where East London-based Mpumalanga Construction is building a school for the government; and
A second newly built government school in Nombanjana village near Wavecrest was allegedly built using illegally mined sand.
Many of the mines are located in the 1km Coastal Conservation Area along the Wild Coast, a zone that was established to protect the sensitive coastal and estuarine environments of the region.
With no rehabilitation plans in place, the mines are destroying hundreds of acres of natural flora, causing massive soil erosion and degradation of roads by heavily laden trucks. If not checked, this could lead to the loss of thousands of tons of fertile soil being washed away, landslides and slumps becoming more common as hillsides are made unstable, and the silting of rivers.
The three construction companies have denied any involvement in the illegal operation.
Mpumalanga construction company is building a school, as part of the Accelerated Schools Infrastructure Delivery Initiative (Asidi) in Elliotdale. AlfDav is building a similar school in Centane while Fitscape is building RDP houses in Ingquza Hill municipality. Asidi was set up in 2011 to eradicate mud schools, with 49 new schools having been built in the province since 2011. Another 49 schools were almost complete and another 120 were being planned for next year.
Mpumalanga Construction said it was not aware the sand had been illegally mined. Spokesman Ian Cooper said they were using a local supplier as per government tender requirements.
"There have been various suppliers [delivering sand] but I have not met them or seen any permits," he said.
At Nombanjana village, AlfDav Construction is almost finished building a school with sand mined from inside the 1km protected coastal zone. Villagers said the firm had been mining sand since the start of the project two years ago.
But Azola Vela from AlfDav referred queries back to villagers. "It will be better if you can consult the committee of the Nombanjana Community where we bought the sand," said Vela.
Further north near Lusikisiki, our team followed a large truck with a Fitscape Construction logo and contact details after it was seen loading sand from an illegal dig on the banks of a small stream. The company is building RDP houses for the Ingquza Hill Municipality in the area. Local councillor Nontobeko Daliwe said the company had promised to pay the community for the sand. "They promised to give us money and to build us a hall," said Daliwe.
Andy Scoccia, speaking on behalf of Fitscape, denied the company mined sand illegally. "On what premise do you make this assumption? Could you give us names of persons spoken to and GPS co-ordinates for investigation," he asked in an e-mail.
But when the Dispatch provided the details, Scoccia changed his tune.
"It could be an occasional load – as happens in most rural operations – was taken from a river bed but we buy our aggregates commercially as the norm," he said.
In Port St Johns, the Dispatch witnessed illegal miners removing sand from a site in the town not far from the police station.
After flagging down a passing police vehicle, an officer said it was a "municipality problem, not ours".
However this contradicts a letter written by PSJ station commander Colonel NX Mabula in 2012 to residents, in which he says police are committed to helping the municipality fight illegal sand mining. Port St Johns mayor Mnyamezeli Mangqo said the municipality was aware of the illegal sand mining and "is responding".
A local businessman, ZNdabeni, was arrested for sand mining on municipal land on March 7. His truck was impounded and he appeared in court on March 10.
Department of Mineral Resources spokeswoman Ayanda Shezi said: "Community awareness sessions are being held in conjuction with the department of rural development and agrarian reform. Perpetrators are informed and educated when confronted."
Permits had been granted to mine sand in Port St Johns and near the Mbashe River, but did not give the exact locations, Shezi said.