Take a walk on the Wild side . . .
Blogs » WildCoast.Com's blog
Our Shoreline on SABC2
A spectacular glimpse of the Wild Coast.
<b>Available from http://www.impactvideo.co.za/prod_det.asp?ID=1520 </b>
Shoreline is a South African documentary series commissioned by SABC 2. It is a multidisciplinary showcase of all the unique and diverse features along our coastline – geology, paleontology, history, settlement patterns, marine biology, ecology etc.
One of the main features of this series is that it is presented by a team of specialist presenters – archaeologist Gavin Whitelaw, historian Nomalanga Mkhize and marine biologist Eleanor Yeld. Anchor presenter Peter Butler and his dog Nujack guide our experts on the journey around the coast.
Shoreline consists of 13 episodes and in each episode we visit a stretch of coastline to get a sense of its character and stories to help build a picture of our unique coastline. We reveal how natural wonders and historic events have shaped the lives of coastal communities.' 
The Shoreline DVD box set will be available after the series ends on 12 October 2009. SABC will also be giving away several DVD box sets of the series. See www.ourshoreline.co.za for competition details.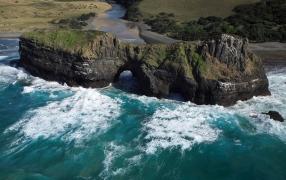 Episode Ten of Shoreline, on Monday the 14'th, features the Wild Coast from Cove Rock (East London) to Port Grosvenor. Click here: Episode Ten for an overview.
"This untamed wilderness is filled with rolling green hills and unspoilt beaches, secluded bays fringed with wild banana trees, tranquil lagoons and dense coastal forests, deeply carved valleys and precipitous cliffs where waterfalls plummet into the sea.
Violent storms and monstrous waves sometimes batter the coast, and many ships have met an untimely end here. Ancient myths and legends are rife, and the diverse peoples represent a rich cultural heritage. This is a shoreline truly deserving of its name – the Wild Coast."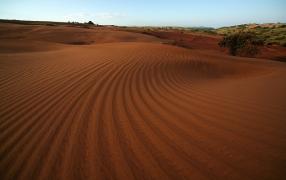 Episode Eleven, On Monday the 21'st, will explore Mkambati to Amanzimtoti, including the Pondoland Centre of Endemism and the threatened Xolobeni area. See Episode Eleven for more info.
"A recent study of the flora of four sites in the PC has revealed 2253 different species, of which 196 were endemic to the PC. This level of floral diversity is truly impressive, considering that the whole of Great Britain contains only about 1400 species. Species density in the PC is also exceptionally high, with about 2500 species in 1900 km2 – compared to about 9 000 species in 90 000 km2 in the Cape Flora. Scientifically, the PC has been comparatively poorly surveyed, and new plant species are continually being discovered. The region is particularly rich in woody endemics, and contains more than 30 endemic species of robust creepers, shrubs and trees – the highest count for endemic tree species in South Africa. The PC contains many rare and unusual plants, and some are so rare that no local names are known, such as the so-called Pondo Bushman's tea (Lydenburgia abbottii). This is the rarest forest tree endemic to South Africa, with only about 200-500 specimens in existence. The entire population occurs between the Amphitheatre in the Umtamvuna Nature Reserve and the Msikaba River – a total range of only 40 kilometres. It is estimated that many of the trees could be as old as 1000 years."