Take a walk on the Wild side . . .
ORDER YOUR TOO GREAT A TOLL WILD COAST 2012 CALENDAR NOW!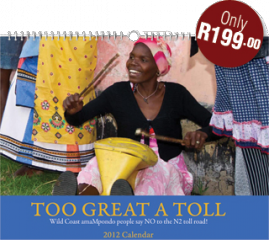 Wild Coast Fund Raising Calendar
HELP PUT A PERMANENT STOP TO:
Mining of the Wild Coast dunes
The 'Greenfields' section of the N2 Toll road through Pondoland
HOW?
Funds raised by your purchase of this calendar go to support residents of Pondoland's Wild Coast, in their ongoing battle to protect and conserve their living landscapes and prevent the shredding of their social fabric by the two massive development schemes.
They need support to gain access to information and effective legal representation in their planned court challenge, over government`s failure to engage them in open and transparent decision making about the N2 Wild Coast `Troll` Road, and the award of mining rights for the Xolobeni mineral sands. The `developments` will benefit cash-rich outsiders and be paid for by cash-poor rural residents and the natural environment.
This is more than just a calendar.
It is a collaborative work of art that magnifies the spectacular natural beauty of the place and amplifies the heartfelt convictions of the people on how development decisions ought to be made in a democratic society.
Calendar Details
. A3 wall calendar with wiro binding
. Beautiful photographs taken by world renowned environmental photographer, Cheryl Alexander
Page a month with challenging quotes from traditional leaders, elected local political representatives and youth activists.