Take a walk on the Wild side . . .
Map of the Wild Coast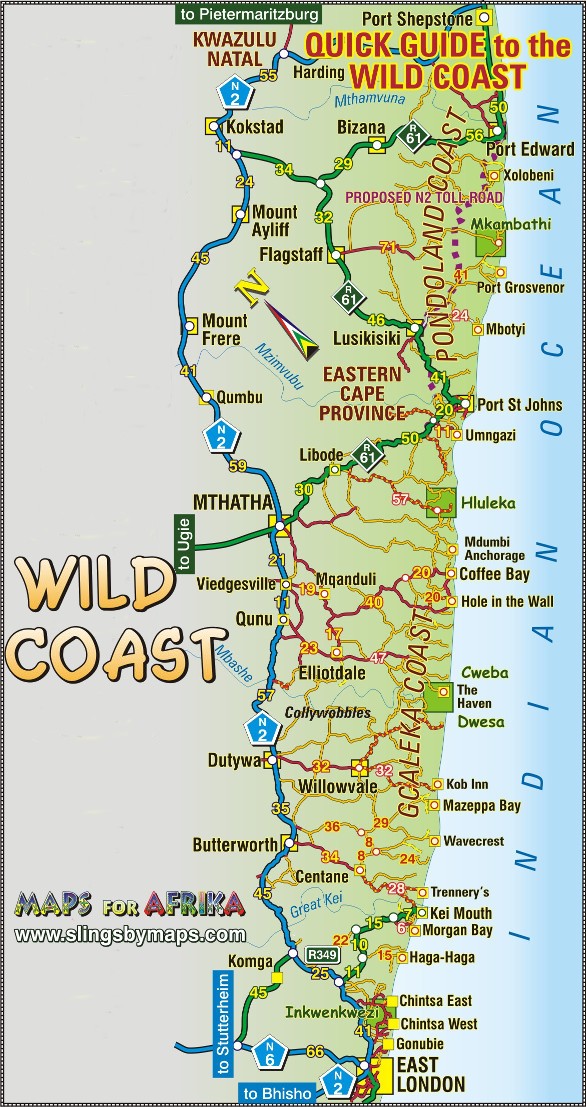 SLINGSBY MAPS have detailed and accurate maps covering all the major scenic routes in South Africa available for online order at www.slingsbymaps.com.
Wild Coast Map: The fully detailed, GPS-compatible, waterproof map of the entire Wild Coast, from which this inset is taken, is widely available from bookshops and sports stores in most major centers, and numerous Wild Coast resorts. The retail price is around R135 (c. 2014) for the waterproof  version, and can be purchased on-line at www.slingsbymaps.com.
"Your Wild Coast map - it's magnificent" -Don Pinnock, Editor, GETAWAY Magazine.
"Truly an excellent map..." -Jeff Pieres, Historian.
"A MUST-HAVE for travellers in the area" -Janna Cooper, Strandloper Ecotourism Board.
For retail and trade enquiries, go to http://www.slingsbymaps.com/contactus.aspx (Click here or directly on the map to see a sample of the fully detailed map.)
Contact: