Take a walk on the Wild side . . .
Blogs » WildCoast.Com's blog
Lala Nguxolo Beauty
Beauty passed away last night.

Beauty passed away last night.
A beautiful soul, "Beauty" was my housemaid for many  years, and a beloved friend. She's only about 2 years older than me. I collected her on her way back from seeing an igqirha on Friday night and she was complaining about a terrible headache. I didn't think it was that serious... 
I suspect now, with this dry winter, that it could have been cholera, or meningitis. Going to take a water sample to Umtata tomorrow. I wish I'd taken her to hospital. I just didn't think...
Beauty was also known as uCopshop around Hole in the Wall. Fiercely independent and practical, she worked at Mdedeleni JSS for the past couple of years cooking food for the kids. But she was always making a plan on the side: whether cooking russians and walky talkies to sell at the soccer matches, being a shebeen queen, or even selling "vlopes."
If anyone from the good 'ol PSJ daze is reading this, and remembers Beauty kindly, please consider contributing to her family in this time of trouble. She leaves 3 children, 2 of whom are dependents, behind: Jenelle, Eric and Tando.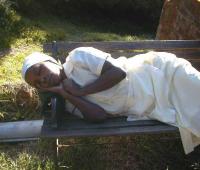 Rest in Peace Beauty. I love you. God bless.
Hole in the Wall Nature Reserve links