Take a walk on the Wild side . . .
Kei to PSJ Wild Ride: Mountain Bike Tour on the Southern Wild Coast
Sarah Drew (Active Escapes) Tel: 084 2407277 or 033 2344367
Email: sarah

active-escapes [dot] co [dot] za (subject: Wild%20Coast%20MTB%20Enquiry%20from%20www.wildcoast.co.za.)  
http://www.active-escapes.co.za/destination/wildcoast/mtb/mountainbiking...
Experience the essence of Africa with a mountain bike tour on the Wild Side – Eastern Cape's, Wild Coast. Dramatic cliff faces, jutting headlands, hidden waterfalls and deserted beaches. Kickback under a milkwood tree, explore the rusted remains of the numerous shipwrecks along this shore, or discover the myriad birdlife and pristine estuaries which abound this rugged coastline. There's no better way to appreciate the diversity of this untamed coast than from the vantage of your saddle, as you wind your way from cliff-top to sandy bay, across grassy plateau and up forested-tracks, passing through rural villages along the way.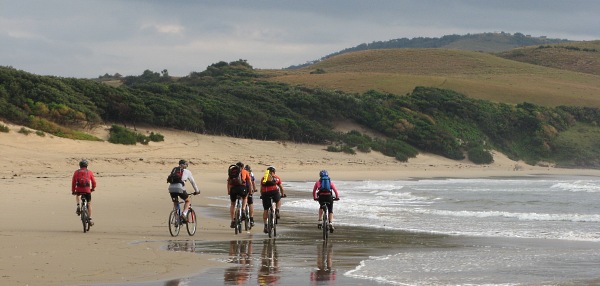 Experience the warmth of amaXhosa hospitality and get an insight into traditional custom with community and backpacker-stays, or treat yourself to the old-world charm of family hotels along the way. At over 300km in length, with a labyrinth of coastal and inland trails to chose from, the Wild Coast offers diverse trail riding options. Trips are generally run over full and new moon periods, where we take advantage of the wet hard beaches created by the Spring low tides. Active Escapes offers a number of MTB tour options along this untamed coastline. Whilst a good measure of fitness and previous mountain bike experience comes recommended, a keen sense of adventure, and an appreciation of nature, is the only qualifier you'll need to participate in one of our tours.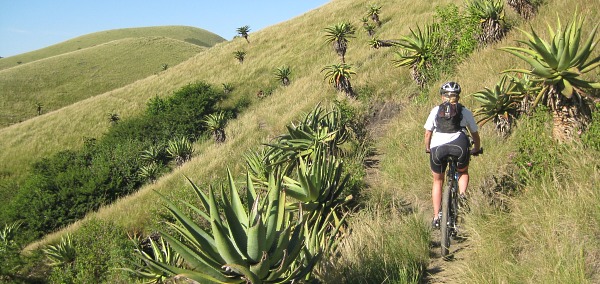 The traditional Wild Coast Cycle Tour follows the Imana Wild Ride race route from Kei Mouth in the south up to Umngazi or Port St John's. This 200km race is completed over 4 days, which can be done with fit and experienced groups. However, we tend to trip the route over a more social 6 days, with the second and last day being split into two ride days. We also usually take a well deserved rest-day somewhere enroute to fully appreciate the landscape through which you are passing and re-energize on some of those good pondo vibes. We offer private tours to groups of 6 persons or more, otherwise keep checking our ONLINE EVENTS CALENDAR for scheduled tours. Our tours are professionally guided, catered and supported with vehicle back-up, but if you looking to run the trip independently ( without vehicle back-up), we can certainly help out with route advice, accommodation bookings, and end-point transfers.