Take a walk on the Wild side . . .
Kei Mouth / Morgan Bay Map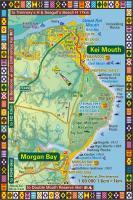 Source: www.themaps.co.za The beautiful, fully detailed, waterproof map that this inset is taken from is widely available from bookshops and sports stores in most major centers, and Wild Coast Holiday Association resorts. Retail and trade enquiries for the Eastern Cape and KZN: phone Gavin Stewart at 083 708 2719... or email morstew

iafrica [dot] com. See: www.wildcoast.com/map for more details.