Take a walk on the Wild side . . .
Join the Jikeleza Jog -2011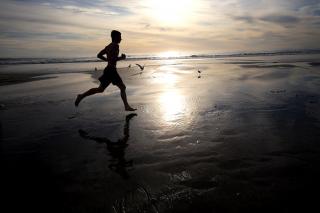 Be one of the early pioneers to trail run along sunkissed beaches a distance of some 65 kilometres through Wild Coast Wilderness.
This inaugural event is to be held over the June long weekend which is fortuitously timed over a full moon so that runners can take advantage of golden miles of hard-pack beach on the spring low-tide with less probability of rain and comfortable daily temperature.
The daily run/hike distances are within easy reach of the social jogger and avid hiker with a keen sense of adventure. If you're not sweating for a podium placing, there's plenty of time each day to kick off your shoes, catch your breath under the cool shade of a milkwood or take a refreshing dip in the ocean along the way. The route is unmarked and unmanned, but basic maps will be provided and keeping the sea on your left will guide you to the finish each day. Participants will race as pairs and for those teams competing for a podium position, there will be optional diversions to collect checkpoints along the route
Running Terrain
Participants can expect some of the most spectacular 'wild running' terrain. Cattle and fishermen paths provide clear tracks up and over the grassy headlands peppered by Nguni's and brightly painted traditional kraals.
The spectacular cliffs south of Morgan Bay will give you a bird's eye view of the rugged beauty of this coastline whilst the rusting carcasses of numerous shipwrecks passed on route bear testimony to the dynamic energy of this wild coastline. Participants should also be prepared for some river crossings – depending on the time and tide these could mean an ankle wetting for some and a refreshing swim for others.