Take a walk on the Wild side . . .
Green Scorpions
Crackdown by Green Scorpions
2009/11/16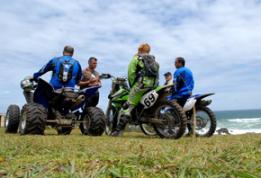 THE Eastern Cape's highly specialised environmental unit, known as the "Green Scorpions", has cracked down on people and hotels along the Wild Coast for flouting environmental laws and has issued fines totalling more than R30 000.
The Green Scorpions, or the Environmental Management Inspectorate, is a network of environmental enforcement officials from different government departments.
The joint operation involved the provincial Department of Economic Development and Environmental Affairs (Dedea), Kei Mouth police, East London Dog Unit, police airwing and Marine and Coastal Management.
They embarked on a crackdown at the weekend to enforce the law and to warn people to abide by the country's environmental laws.
The operation kicked off at around 5am in Kei Mouth on Saturday. From there members of the team crossed the Kei River to inspect the coast.
The team was joined by a police helicopter from Bhisho, which swooped on a number people driving off-road vehicles or riding quad bikes illegally along the beach. The transgressors were issued spot fines .
Dedea senior manager for environmental compliance and enforcement Div de Villiers , who heads the Green Scorpions in the province, said they fined 12 people for driving along the beach illegally. All were issued with fines of R2500 each and ordered off the beach.
The team also visited hotels in the area. "Basically we did hotel checks and found one with excess alikreukel (a type of shell fish)," said De Villiers. "The reason for taking action is the amount of damage caused ... trucks ... ride over birds' eggs and nests and vegetation. They churn up the mountainside, which leads to erosion."
From the chopper, the Green Scorpions also spotted people mining sand illegally. The damage, seen from the air, "was unbelievable", said an inspector. "We impounded the truck and issued a R5000 fine for his mining and driving along the coast. But he paid the fine and the truck was released," said De Villiers.
"No vehicles were confiscated and not all of them paid their fines. It (operation) definitely yielded positive results. It's also proactive and warns people to stick to legislation.
"The word is out; there will be zero tolerance over the forthcoming festive holiday season."
Dedea acting head of department Sybert Liebenberg, who took part in the crackdown, said environmental crimes were also economic crimes.
"They erode our tourism. Twenty years from now there will be nothing left in the Transkei for our children. " — By BABALO NDENZE, babalon

dispatch [dot] co [dot] za