Take a walk on the Wild side . . .
Fishing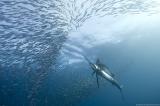 Fishing
The Wild Coast has long been a popular destination for sport fishermen. Shore angling from the rocky coastline rewards the angler with catches of Garrick, kob, steenbras, shad, Kingfish, galjoen and hottentot. The boat anglers fishing from surf launched ski boats have a chance at yellowtail, tuna, yellowfin, swordfish, mackerel, marlin, sailfish, barracuda, cob and queen fish.
Fishing enthusiasts please see www.fishingec.co.za for more info.