Take a walk on the Wild side . . .
Blogs » WildCoast.Com's blog
ANC vs Tshezi UDM
The image below shows the 2 Local Municipalities (Mbashe & KSD) with the only 7 wards won outright by the UDM in the Eastern Cape. (As shown on www.news24.com/Elections/Results)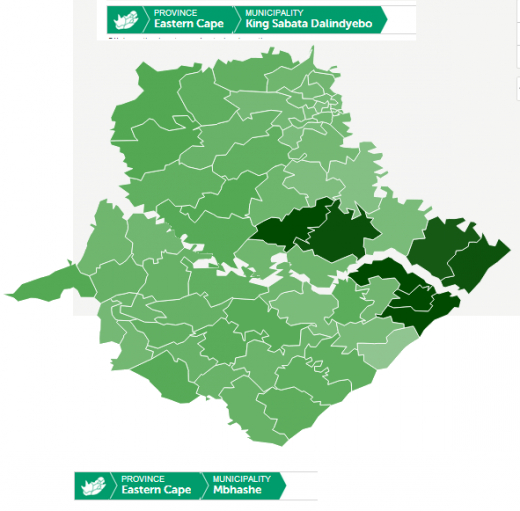 Tshezi Land
The 2 coastal wards run (spatially over exactly the Tshezi clan's land) from Mbashe River (Dwesa/Cwebe) to Mthatha River, up to Kwaaiman Police Station / Upper Mpako... then a gap... and then roughly from Mancam (Dick King monument) up to Mqanduli (Bantu Holomisa's place of origin).
Interestingly, the police station outside Coffee Bay had a roadblock yesterday morning when I drove past on my way to Ngcwanguba, and were in the process of searching a car with 2 couples standing forlorn on the side of the road. They pulled me over and asked for my drivers license and then wrote down my name on the list they were compiling of traffic leaving Coffee Bay.
I asked the plain clothes what was happening, and he told me that they found 'ntsangu' (dagga / marijuana) in the car. I said, Ag please man, there's nothing wrong with the 'holy herb'.
I'm certain that a) due process here was correctly observed and they asked nicely and were duly granted permission to search the vehicle, and b) it's purely coincidental that the police are clamping down on the area and negatively impacting both tourism and the local 'fresh produce' market.
The Tshezi are the ruling Bomvana clan of the Jalamba-Gambushe line, with European shipwreck ancestry.
They rose to prominence when the Xhosa King Hintsa took Nomsa of the Tshezi's as his Great Wife. The land they occupy in the main is the region around Hole in the Wall and Coffee Bay... arguably the pre-eminent tourism destination on the Wild Coast.
 I have written quite extensively in the past about the ANC vs UDM faction 'issues' in the region. SMH