Yellowwood Forest Campsite
Contact: Sean Rohm
Tel: 043 8411598
Cell:084 5822601
Email Address: info@yellowwoodforest.co.za
Website: www.yellowwoodforest.co.za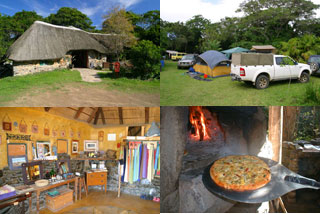 Yellowwood Forest Caravan Park and Campsite in Morgan Bay is set in a beautiful garden on the bank of the Inchara River, 1km from the beach.
Enormous trees and lush riverine vegetation surround this peaceful place. A bird watchers paradise, offering a quiet, intimate place for nature lovers.
The campground has a choice of shady tent sites and electrical points are available. A rustic thatched bush camp, tucked away on the riverbank, is a perfect hideaway and our loft gives you a birds-eye view of the trees.
Relax in the tea garden for light meals and refreshments, or enjoy a delicious wood-fired pizza. Our gift shop offers interesting local arts, crafts, clothing and a wide selection of books. We also have a kiddies play area; complete with rabbits, tree house, swings, trampoline and sandpit.
Tariffs:
Out of season: R75 per site + R10 per person (max. 6 per site)
In season: R130 per site + R15 per person (max. 6 per site)
Bush camp: Double campsite rate (sleeps two)
Loft: R175 per day (sleeps two)
Electricity: R30 per day