Trennerys Hotel
Welcome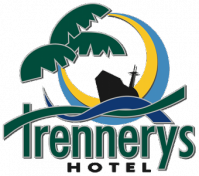 to the scenic splendour of the rugged Wild Coast that makes Trennerys Hotel the perfect destination for the wild at heart – a place that abounds with the peace and tranquillity of paradise…
Situated at Qolora Mouth, just a short drive north of East London, the hotel still maintains its old-world charm and its unique, South African hospitality.
Set in idyllic Transkei surroundings, views from the hotel range from the stunning Wild Coast beaches to the green and lush, tropical vegetation.
Close to the beach and with plenty to do – from hiking and cycling, to fishing and canoeing – Trennerys Hotel is everybody's first-choice, affordable family getaway.