The Haven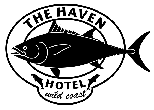 Tel.: 083 996 5343
Fax: 047 576 8905
Email: info@havenhotel.co.za
http://www.havenhotel.co.za
The Haven Hotel is a family and adventure destination located within the Cwebe/Dwesa Nature Reserves on the Wild Coast of South Africa.
Blessed with sea, sun and endless things to see and do, it offers a way of life that lets you forget the rest of the world and relax in the most secluded and unspoilt surroundings.
Established over 50 years ago, the Haven comprises of 38 spacious en-suite chalets scattered within a tranquil, garden-like environment. Under new management, the resort is in the process of being restored to its former glory.
Located at the mouth of the Mbashe river, the Haven has long been renowned as one of the prime fishing destinations in South Africa.
But that is only one of the many reasons to visit this unique resort. Some of the other activities you can enjoy include horse riding, tennis, golf, hiking, bird watching, canoeing, whale- and dolphin-watching, snorkelling, 4x4ing.
The favourite pasttime of our guests, however, seems to be . . . simply relaxing.
Break away to the Haven – unspoilt, unbelievable, unforgettable.
"It is another Eden – the most beautiful site for a hotel in the world."
Charles Roberts
Guest: February 2006