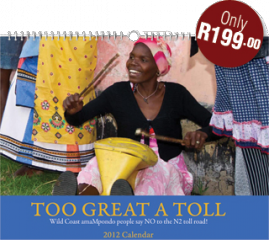 Click here to order!
HELP PUT A PERMANENT STOP TO:
Mining of the Wild Coast dunes
The 'Greenfields' section of the N2 Toll road through Pondoland
HOW? Funds raised by your purchase of this calendar go to support residents of Pondoland's Wild Coast, in their ongoing battle to protect and conserve their living landscapes and prevent the shredding of their social fabric by the two massive development schemes.