Port St Johns to Coffee Bay Backpacker Hike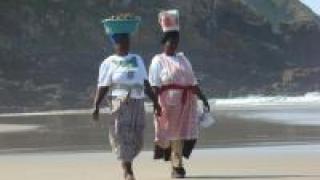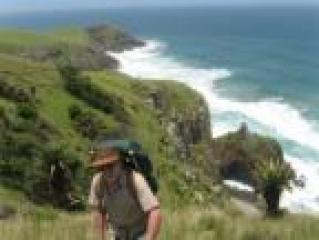 The 60km stretch of Wild Coast from Port St Johns to Coffee Bay is well suited to the more budget-conscious traveller looking for an authentic Wild Coast Experience. On this 5 day hiking trail you can chose between friendly village-based homestays, chilled-out backpackers, or a combination of both.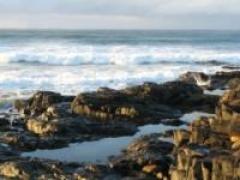 You'll pass some impressive natural phenomenans, along the undulating terrain through which this hike traverses. From the fascinating Table Mountain sandstone cliffs of Port St Johns; to the arched bays of Mpande and Mdumbi (voted one of SA's top three beaches and surfing hotspot); the impressive dolerite intrusion at Brazen Head and the fabled landmark, Hole in the Wall, where the roar of ocean through this hollowed cliff, has earnt the Xhosa name
"esiKhaleni"
( place of sound). From the lush coastal forests of Silaka to the peppered hills of Hluleka, the PSJ to Coffee Bay walking trail navigates rocky seashores, mangrove-clad estuaries, across sandy bay and through evergreen forests.
Our Standard 5 Day PSJ - Coffee Bay Hike Itinerary is
: Day 1 : Arrive in PSJ (86km from Mtata). Overnight: at a friendly Backpacker, B&B or Lodge Day 2: Hike 3rd Beach PSJ– Mngazana Estuary. 5hrs walk. Overnight: Village-based homestay with dinner, bed & breakfast included OR Private Holiday Cottage (self-catered) Day 3:Hike Mngazana - Mpande. 4hrs walk. Overnight: Backpacker or Private Holiday Cottage (avail & no's dependent) Day 4: Hike Mpande - Hluleka. 6hrs walk. Overnight: Hluleka Nature Reserve (self-catered) or village-based homestay (DBB) Day 5: Hike Hlukela - Mdumbi. 6hrs walk. Overnight: Mdumbi Backpackers or Village Homestay (DBB) Day 6: Hike Mdumbi-Coffee Bay. 4hrs walk. Overnight: Treat yourself to a stay in the Ocean View hotel or drum the night away at Bomvu or Coffee Shack backpackers. Day 7 :After a hearty breakfast & walk up sugar-loaf hill, a shuttle will pick you up to return you to back to PSJ where your vehicles await. Bon Voyage For more information about this hike, contact:
Sarah Drew (Active Escapes)
Tel: 084 2407277 or 033 2344367
Email: sarah@active-escapes.co.za
Website: www.active-escapes.co.za