Mbotyi Campsite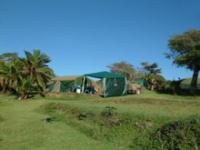 Contact:
Telephone: +27 (0)39 253-7201
Fax: +27 (0)39 253-7202
www.mbotyi.co.za/campsites.html
Mbotyi Campsite is a joint venture between the Mbotyi community and Mbotyi River Lodge. The Campsite is managed by the "Mbotyi Campsite Trust".
It is an upmarket venue with electricity, purified water and 24 hour security. The property is fenced and provides safe, off-road parking. The campsite has been left as natural as possible and the tent sites have been terraced for campers. It is advisable to book a site suitable for the size of the tent you wish to pitch.
Accommodation:
Camping sites

Three 6-sleeper PONDO HUTS. (1 x double bed, 2 x single beds and 1 x double bunk. Huts are equipped with fridge, tables and chairs.)
Two 2-sleeper rooms. (One equipped with a double bed and the other with two single beds. Both rooms have their own fridge and cupboard.)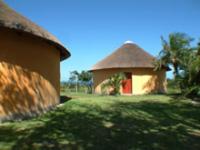 Kindly note: the Campsite is not a self-catering facility. No crockery, cutlery or linen is provided, but is available for hire. It is however recommended that you bring your own.
Communal Facilities
Kitchens:
There are 8 kitchens (cookers and kettles are available to rent)with a wash-up area with hot and cold water. There is no additional charge for the use of the kitchens, they are for all campsite guests.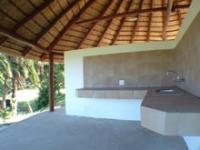 Ablutions:
Spotless Gents and Ladies ablutions with hot and cold water.
Dining Area:
There is a covered dining area where guests can enjoy the beautiful sea view while having a meal. This area is for use by all guests at the campsite.
Braai Area:
There are braai areas around the campsite with their own light and three prong plug 220V power point.

Info
Bring your own food and supplies as the local trading store has limited stock
Bring your own crockery, cutlery and linen
Booking is essential