With thanks to www.kznwildlife.co.za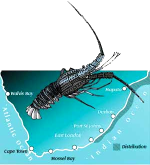 IDENTIFICATION
Rock lobsters or spiny lobsters are popularly known as crayfish, but should be distinguished from the freshwater crayfish, which are considerably less popular in restaurants! Rock lobsters like crabs, belong to the crustacean family and have a horny exoskeleton (carapace) but they have a long tail ending with a tail fan. The East Coast rock lobster is brick red with orange spines and blue-green markings on the head.
There are two horns next to their eyes but unlike other species, there are no spines between these horns. The rock lobsters that may be sold in restaurants are either West Coast rock lobsters (Panulirus lalandii) or deep-water rock lobsters (Palinurus spp.) both have spines between their horns.
DISTRIBUTION
The East Coast rock lobster occurs from central Mozambique and Madagascar to East London. They inhabit rocky reefs in the surf zone at depths of 1-36 meters.