To Baz Bus or Not To Baz Bus
With thanks to Claudia Wu for this insightful article outlining the pleasures and pitfalls of traveling the magic bus. Read more of her great travel tips and stories:
Where Wu At
11 AUG 2011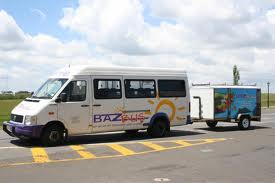 For those planning on traveling around South Africa, there is a very convenient backpacker-geared transportation service called Baz Bus. Basically, they provide transportation between backpackers/hostels in major destinations with door-to-door service. They also sell a type of ticket which allows you to hop on/hop off wherever you want for a fixed price. Personally, I decided not to go with Baz Bus because I wanted to get a local feel of South Africa by traveling as locals do. However, I would say 90% of the people I met used Baz Bus to get around. Here are some pros and cons that I found with Baz Bus (having to take it occasionally out of necessity):
Pros
1. This is the most convenient way to travel around South Africa and allows you to spend more time enjoying your vacation instead of planning your transportation.
2. Great for meeting new people. The majority of backpackers use Baz Bus so you'll meet fellow backpackers and get great tips on what to do, see, eat, stay.
3. Some of the drivers act as a tour guide, pointing out sites along the way and providing tons of information about South Africa.
4. Safe, reliable and comfortable travel. The minibuses they use are very new and easy to fall asleep in. Cons
1. More expensive than coach buses or other minibuses (I found on average it was double the price for Baz Bus).
2. Takes some of the fun out of traveling for me which is independently finding/planning transportation from point A to B.
3. Less flexible since Baz Bus has only 1 bus per day going in each direction. Coach buses usually had 2-3 options per day so you can depart and arrive at a time that suits your schedule.
4. You might miss out on meeting and seeing how local people live since you're interacting mainly with backpackers from foreign countries. There's a backpacker bubble and you may end up traveling with the same people for your entire trip. Most of the people I met who took Baz Bus ran into people they met previously on the Baz Bus later on in their trip either on another Baz Bus trip or at the hostel. My advice is to try a bit of both and see what suits your style of traveling. Either way, you'll get to experience South Africa and all that it has to offer! Baz Bus website: http://www.bazbus.com