Take a walk on the Wild side . . .
Yellowwood Place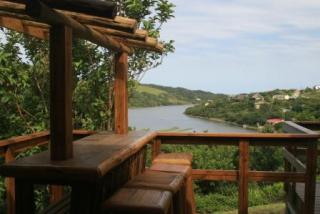 Email: simone_dooley

yahoo [dot] com
Whilst sitting on the deck, feet up, watching the sun set, gin and tonic in hand, aaaah! What could be better? The coals on the braai should be just about ready for those scrumptious steaks that you brought with you. Prawns and calamari are for another night, maybe with some good friends who will bring along the wine.
There is nothing better than sitting on the deck, on a perfect evening, not a breath of wind, spending quality time with one another and or your family and friends. After a good meal, good conversation, gently work your way to bed for an early evening...or late! These are times that you will always cherish.
Waking up is another experience. It gets light early and somehow you just can't stay in bed. The sunrise is so beautiful with the birds singing and the Hornbills watching your every move. The view takes your breath away, making you realize that Morgan Bay is a truly special place to be.
There is a satellite tv in the main bedroom, which allows you to watch your favourite programs. Please bring your decoder and DSTV card.
The main bedroom has a lounge/reading area, giving you a choice of staying in bed or relaxing in the chill-out area.
In both bedrooms, you get the same view as if you were standing on the deck - absolutely awesome view!
Upstairs bedroom - 1 x double bed / shower Downstairs bedroom - 2 x single beds / shower
House maid can be arranged, at your request only.
Don't hesitate to contact us if you would like to spend your holiday or short break at Yellowwood Place.
Rates vary according to season, length of stay and number of people.
FREQUENTLY ASKED QUESTIONS
Question: Is the house safe? Answer: Yes, there is an alarm system and trellidoors throughout. Occassionaly, the odd intruder is the opportunist monkey!
Will we be sharing the house with anyone else? Answer: No, the house is all yours and only let to you and your family.
Question: Do you provide towels? Answer: Yes for the bath/shower, but not beach towels.
Question: How close are you to the beach? Answer: We are a 3 minute drive or 10 minute walk.
Question: Do you have any photpgraphs to show? Answer: Yes, on request.
Contact: email: Simone_dooley

yahoo [dot] com