Take a walk on the Wild side . . .
Wild Coast Hiking (Guided hikes from Port St Johns to Coffee Bay)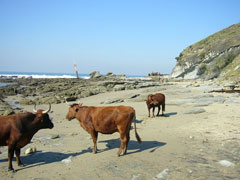 The Best way to experience the beauty of the Wild Coast is to take the 5 day hiking trail run by Jimmy and Mbuyi. Please visit their site for more information, rates and details  at www.wildcoasthikes.com.
The Port St. Johns to Coffee Bay Hiking Trail goes through some of the most beautiful hiking landscape in South Africa. The trail hugs a stretch of coastline along the former Transkei homeland, and is unspoilt and barely touched by development. You will walk along rolling grassy hills dotted with colourful huts, idyllic beaches, estuaries flanked by thick coastal forest and cliffs with stunning sea views. Hikers sleep in hikers' huts and village accommodation. You will also learn a little bit of Xhosa Language and experience the Xhosa food. If you're hiking at the right time of the year, you will most likely see dolphins and whales.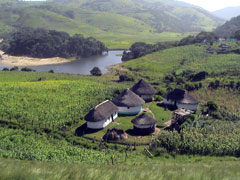 The duration of the hiking trail is five days with four overnight stops.
Your guides are Dreadlock Jimmy Selani, and Mbuyi Mangala:
Check their site for some reviews on the hike. www.wildcoasthikes.com