Take a walk on the Wild side . . .
Port St Johns to Coffee Bay » Coffee Bay
The Duckling Restaurant
The Duckling is a small restaurant in the middle of a Xhosa Village. The chef is Alicia, a real Xhosa lady with passion for good food. The ingredients are mainly sourced locally and organic. I'm her husband, Eybe, and I'm raising ducks and chicken, which are fed organic grains and roam around in our outer yard. Local fisherman sell us cray fish, fish, octopus and mussels. They are cleaned and immediately frozen to keep the freshness as we never know when guests turn up. Alicia takes care of a 150 m2 vegetable garden and a herb garden. We serve chilled transkei rain water. 
All foods are prepared fresh from the scratch, so you have to give us some time to prepare your food ! Contact us as soon you're sure you want an unforgettable meal at The Duckling. For dinner at least 6 hours before. For breakfast half an hour. Currently we can cater for up to 8 people at a time. Children can play in our big yard. There are many toys and a nice swing under a willd fig tree.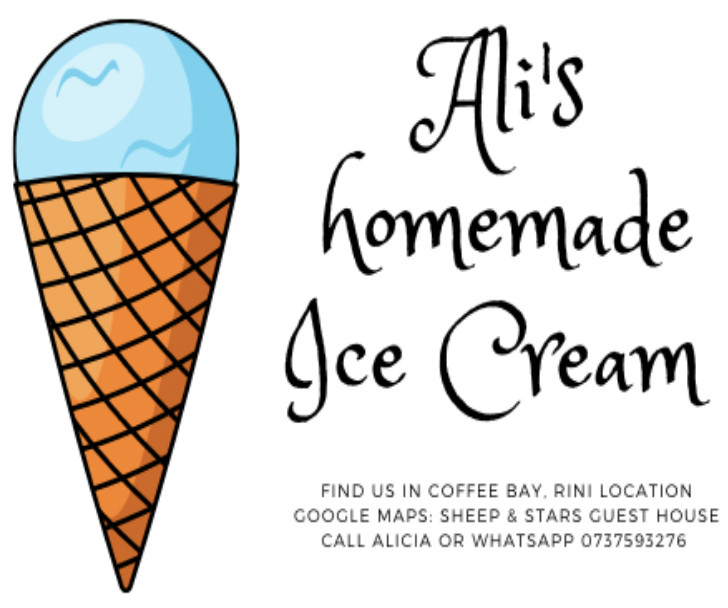 Our ice creams are produced with real cream only. We do not use artificial flavours or colourants. Fruit ice cream is made from locally sourced fruits or from our garden (banana, passion fruit, strawberry, guava, mango). Our famous vanilla ice cream is made from real vanilla extract. We do only produce small batches to always serve you fresh quality.
We do come occasionally to Ocean View Hotel & Coffee Shack. If you do not want to waste your time waiting for us...... and you desperately need to get an ice cream now-now..... then you should prepare yourself for a beautiful village walk to get your ice cream at our place. You can google "sheep and stars guest house" and will find us on Google Maps. You can pay cash or with Snap Scan.
1 scoop is 40 ZAR*
* price as in December 2019, subject to change  
Horizontal Tabs Group