Mtakatyi Old Trading Post

Mtakatyi River Cottages, known as Mtakatyi Old Trading Post:

Set on a serene hillside overlooking the pristine Mtakatyi River, with panoramic ocean, river and forest views, Mtakatyi River Cottage provides comfortable and affordable Wild Coast holiday accommodation for families and fishermen. (Read more...)
We are located 75km from Mthatha.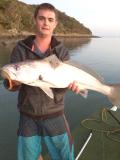 Mtakatyi River is one of the few untouched breeding estuaries and fishing hotspots along the Wild Coast of South Africa.
The cottage is situated a pleasant 1km walk, or drive, from the river banks. The river mouth is about a further 4km away, is accessible by foot, vehicle or boat, and has a wealth of birdlife and fish.
The cottage is in the original Mtakatyi Trading Station 10 acre estate, and is securely guarded 24/7.
Facilities:

Things to do include,
Contact:
We hope you enjoy your stay, and please don't hesitate to contact us with any queries.