Kob Inn Beach Resort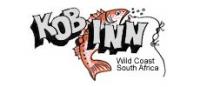 Kob Inn Beach Resort
Qora Mouth
Wild Coast, Eastern Cape
Tel: 047 4990011/2/3
Fax: 047 4990016Ask
Email: info@kobinn.co.za
Web: www.kobinn.co.za
The setting is right on the sea front with the furthest accomodation a maximum distance of 100m from the sea. Rooms are spacious and comfortable with either double or family sized layouts, each with en-suite bathroom.
The hotel is surrounded by sheltered beaches and excellent rock, surf and river fishing, with boating, canoeing, hiking trails and mountain or quad biking.
Good food is synonymous with Kob Inn, with fresh fish and seafood a regular feature on the table menu.
Saturday nights are renowned for seafood banquets with a mini seafood dinner on Wednesday nights. The bar is situated on the edge of the rocks and offers panoramic views of the sea. They also cater for small weddings, anniversaries, special birthdays, event celebrations and conferences.